Dining tables come in all shapes and sizes, round or oval, rectangular or square, long or short, but how a table fits into a living space is a key guide in a search for a French country dining table. Dining furniture that is comfortable to live with, and optimally relates to its surroundings, is just as important as how it looks.
Finding a Dining Table That Works
The best dining tables are those that require design decisions that are guided by simple choices (and the occasional compromise!). An example we encounter often in building a table for families with kids is the durability of the table. In this case, the table finish is of greater need than the table's style or design. We certainly want an authentic look, and one that appeals to you the buyer, but if it doesn't work in your daily home life it's just not right for you. Here are some ideas that will help in deciding on a table that is perfect for your dining room, kitchen nook, or eat-in kitchen area.
---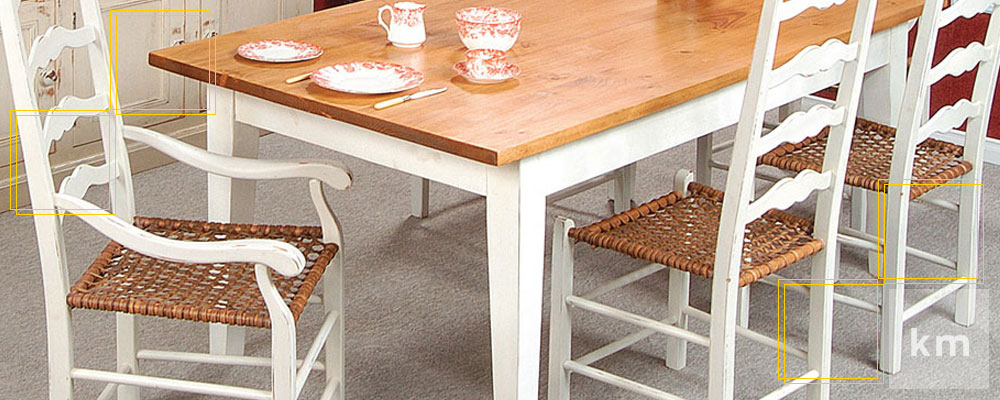 Seating
Determining the number of people needed to sit comfortably is the first step in determining the table size. A common interior design rule states that a diner needs 24" of width at each place setting. That idea can be adhered to, but generally, it is necessary to either increase or decrease that rule due to the type of table, the space needed for the chairs, or how the table will ultimately be used.
A Kate Madison Farm Table in a size of 72" x 40", with a 4" leg, provides about 54" of space between the legs. This takes into account a 5" overhang we add on each table end. The resulting between-leg space could easily handle (2) end chairs and (4) side chairs, accounting for (6) total. Depending on the chair width, you can push the chair total for that table to (8) total. In comparison, a 60" x 40" table could perhaps get to (8) total seats, but the chair width would have to be 18" wide or less, and the chairs would be edge to edge and perhaps more geared to party seating than a comfortable dinner party.
Seating Chart
Here are chair size numbers based on table length, this should help determine a proper table size for your area of dining.
60" x 40" (6 chairs)
72" x 40" (6 to 8 chairs)
84" x 40" (8 chairs)
96" x 40" (8 to 10 chairs)
108" x 40" (10 chairs)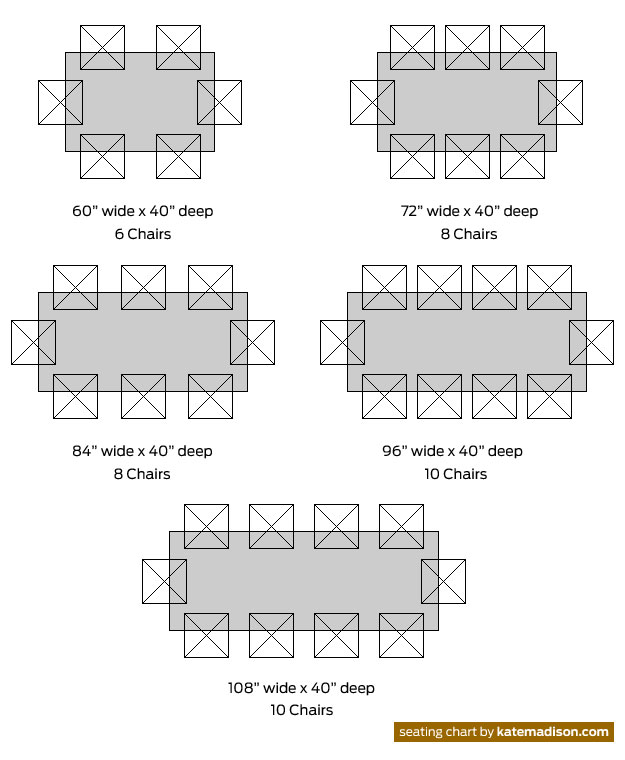 The above is based on a rectangular table, Trestle or Pedestal tables may allow for more cozy seating amounts.
Basic Table Dimensions
The standard height for a dining table is 30", that measurement is from the floor to the table top. A height a little lower, or higher, would be highly noticeable. One may prefer a custom height that is slightly less formal, say 28.5", but the resulting table apron would be too low, and limit leg clearance.
The minimal table width is 36" wide. We make our tables with a 40" width, which allows more space for end-of-table seating. That width also provides some space for the center of the table display and serving. A custom width can go as high as 48". At that width, you would increase serving space and may even have room for 2 additional seats at the end of the table. The negative at that width is that you may decrease the intimacy with the seated guests on the opposite side of the table.
---
Room Dimensions
While we know the basic seating space needed for diners (24" wide), the most important part of table shopping is how to fill the room where the table will be placed. An interior design rule, concerning the spacing of a table in any room, maintains that an appropriate distance off walls and other furniture in a room must be determined.
If you measure 24" off the edge of a table to a wall or an item of furniture, a seated diner will have enough space to get in and out of their chair comfortably. If you have the room to add a little more space, a better dimension would be 30" off the table edge. For larger rooms, providing 36" of room from the table edge to wall will provide enough room for a diner to be seated and allow a person to walk behind them.
A great way to figure out what size table best fits is to break out the tape measure and map out the layout within the room to get a sense of what table size will fit. We even recommend cutting a piece of cardboard to mimic what table size you are considering and placing it in the room to get a feel of how the size of the table relates to the room area. This works and is a terrific way to establish the impact the table will have in the room.
---
What Are the Table Styles of French Country?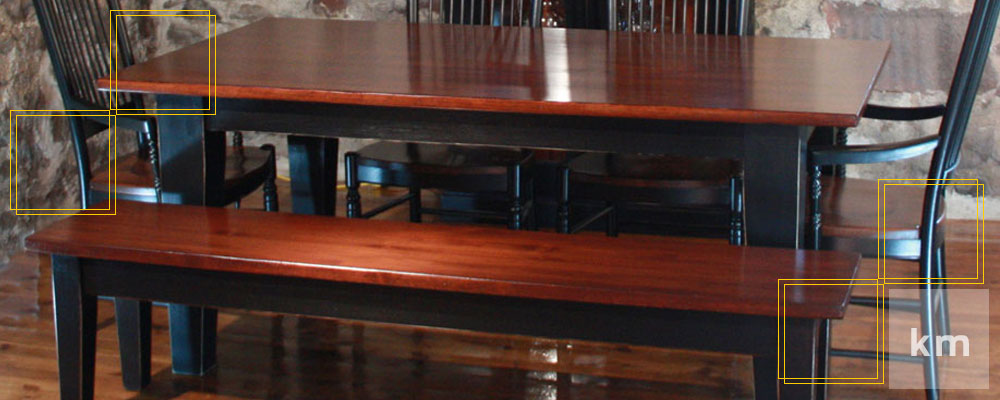 French country dining tables are offered in a variety of base styles as well as with options for top styles. When shopping for your dining table, you probably already have a sense of what table base style you are looking for. Kate Madison offers rectangular and round leg-and-apron tables, pedestal tables, and trestle tables.
---
Leg-and-Apron Tables
A dining table that is a leg-and-apron, essentially four legs and a skirt apron, are the most common table available. A table with turned or tapered legs as its base offers a dining table form that is sturdy, strong, and reliable to withstand daily use. Tabletop shapes available for leg-and-rail tables are rectangular and round. Each shape has its characteristics that are good for dining rooms, kitchens, and eating nooks. A round table may offer fewer seating opportunities but allows better traffic flow in a room due to its rounded corners.
A leg-and-apron dining table is designed with the legs spread out to the four corners to provide ample seating room. The legs can come into play as to taking away some seating space for table sitters so be sure to account for about 4"-5" of leg post width. Table aprons are about 26", measuring from the floor to the bottom of the apron. This, along with a 30" table height, provides good overall leg clearance.
BUY
Farm Table
The French country farm table is offered in 5-foot, 6-foot, 7-foot, and 8-foot lengths. Legs are either turned or tapered, with 4" leg widths and 5" leg widths. Top options include Pine, Hand Planed, and Birch.
BUY
48" Round Table
This round table is 48-inches round with two 15" extensions. The extensions extend the length of the table from round to oval with an overall length of 78". The table legs are 4 inches and 5 inches turned.
---
Pedestal Tables
Single pedestal table bases offer good stability and good relative proportion to build a dining room style around. A round top sitting upon a central column of support, whether an onion base or footed pedestal, is a favorite of table buyers. Round or oval, tops provide extra sitters to gather around the table. The number of seated diners is usually an even number to not cramp the spacing.
The size of the top is of utmost importance to get correct on a pedestal base. A 54-inch round table with a pedestal base is a nice table size that will maintain a stable dining experience. A top can go as wide as 72" but anything larger can, and usually does, behave with too much wobble and is not an appropriate size for this type of pedestal base.
BUY
72" Round Pedestal Table
A pedestal table with an onion base turned from a solid block of wood. The available sizes include 54" round, 60" round, and 72" round. Also available as a 54" round with a 20" center extension. The top styles are Pine, Hand Planed, and Birch.
BUY
48" Round Pedestal Table
48" round footed pedestal table with a central ball-shape column. The size options for this table are 42", 48". And 54" round. A version of this is also offered with a 20" extension. Tops: Pine, Hand Planed Pine, and Birch.
---
Trestle Tables
Trestle table designs are perfect for accommodating a large number of seated diners. A Trestle table can be extremely long as the stability and strength of the table are derived from the stretcher bar that spans between the legs. Add extensions, like our company boards, and you get a very long, and very usable dining table that is a real asset in any dining room.
Unlike leg-and-apron tables, there are no seating impediments on a trestle table. The table overhangs provide ample seating space and allow for cozy seating when the event calls for it. Ample overhang on the table end is paramount to comfortable seating for end-sitters. The one drawback to a Trestle table, diners may have to straddle the trestle feet, but that's a negotiable problem that is easy to get past.
BUY
Provincial Trestle Table
A trestle table base that has two carved pedestal legs. Offered in sizes of 80-inches and 96-inches. This table extends to even longer through the use of two 16" company board extensions. The top options are Pine, Hand Planed, and Birch.
BUY
Trestle Table
48" round footed pedestal table with a central ball-shape column. The size options for this table are 42", 48". And 54" round. A version of this is also offered with a 20" extension. Tops: Pine, Hand Planed Pine, and Birch.
---
Which French Country Dining Table Do You Love?
A dining table that is comfortable to live with, that's our goal. Start with thinking about how you like to dine and where the table is going. Measure the room and consider the shape, size, and the number of seats desired. Consider what's in the room and how you'd like to utilize the space to its maximum use. Select a table style that suits the surroundings and you've succeeded in choosing a French country dining table that you'll love!