Say French country, and it conjures up images of comfortable living spaces that are rustic, refined, and unique. It's probably why it stays current and popular in today's interior design. It's never out of fashion and can outfit a home, cottage, lake house, or chateau. Become inspired and learn what French country furniture is.
---
What is French Country Furniture?
French country furniture is defined by its simplicity but also its elegance. It can be charming, understated, and rustic in appearance. Its appeal is due to its classic understated comfort while also offering charm to any home décor. The color palette trends to soft whites, yellows, blues, greens, and even black. Wood tones are also inherent and important in the French country style. The region of Provence is typically considered a center of French country design with its building architecture and overall interior design look. Rustic and practical are key hallmarks of French country furniture design and style.
French country furniture is simple in its form and structure, essential for countryside homes and estates. At its core is a style that is wide in scope, utilizing wood that is stained or painted. Paint finishes are normally distressed, or the painting peeling or rubbed off, providing a rustic appearance. French country-style furniture spans the gamut of soft goods like sofas and pillows; wood furniture such as dining tables and chairs (both arm and side styles) as well as leg-style tables and pedestal tables. The French country look is found in the dining room, living room, kitchen, and bedroom.
Parisian and European fine furniture is influential in the countryside appearance of the French country look and style. Countryside living is quite different in comparison to city living, but the expectation is that the look is smart, elegant, and understated. Country French style came from the growing middle class in the provinces of France. They were not as rich as the wealthy in Paris but expected their furnishings to be comfortable and styled in the looks of Kings Louis XIII and XIV. The décor was simple and not as decadent as what was common in 17th and 18th-century decoration.
The popularity of French country furniture and style continues today due to its combination of antique-style furniture with a distressed appearance and luxurious furnishings. Materials are natural, the colors trend to muted, and the woodwork is distressed. The Country French look is not ornate; it is light and airy and meets the needs of everyday home life. While it can sometimes appear pared-down, its resulting stylishness is functional for any family seeking comfortable elegance.
---
What's Essential in the French Country Furniture Look?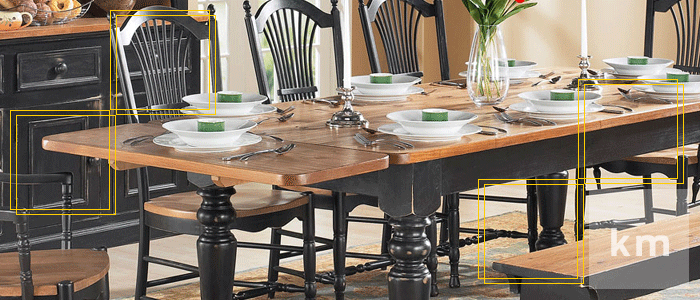 Today, as in the past, the French country furniture look is a blend of rustic and clean, painted and stained, distressed and vintage. It can be Old-World as well as modern and contemporary. French country furniture utilizes materials that were more prevalent in the 18th century. There was no plastic! Wood, iron, and stone are hallmarks of French country interiors.
The furniture is often painted and the painted finish is normally hand-rubbed to appear distressed to show the wood underneath. Color palettes are shades of white (both bright and off-white), blues, greens, and grays. Colors, while they may be muted, are still vibrant and exciting while being unfussy but chic. Aging, antiquing, and worn are characteristics of the furniture finishes. Furniture items in a traditional country French home were worn in appearance and well appreciated, but not so used as to appear tired and worn out. At the present, the look in French country furniture is one of clean design, great craftsmanship, and a style that will last a lifetime.
---
What's Needed For French County Furniture in a Home?
Think simple, elegant, and functional, but also hard-working and stylish, that is the epitome of any piece of French country furniture. Any item of furniture that is found in a French country home should provide comfort, unfussiness, and usefulness. With all of this in mind, start your décor by thinking of a Natural color palette. You have the leeway to add color, country French is not so rigid as other design styles are, think whites, tans, greens, and blues. Choose one or two, and mix them with the natural hues, and you're sure to create a look that will impress guests.
Ideas for French Country Dining Room Furniture
The dining room offers a perfect jumping-off point for a home with a country French style. Start with a Farm Table with chunky 5" turned legs. Add a rustic Vintage wood top made from reclaimed wood, and stained Natural. The table base can be painted an antique white and the surface can be hand-rubbed to remove the paint to give an appearance that allows the stained wood base to shine through. Accompany the table with a similarly painted chair, like the French Country Paysanne chair with a natural stained wood seat, arm or side style. The room can be further detailed with a French country cupboard or a sideboard for storage of dining utensils and fine linens. The design result will be a room with charm and sophistication, and one ready to show off to family and friends.
BUY
Paysanne Chairs
Paysanne chairs available in arm and side chairs. Four seat styles to choose from.
Ideas for French Country Kitchen Furniture
The kitchen is the gathering place for meals and entertainment for both family and visiting guests. The center of the kitchen needs a kitchen island and a choice like the French Country Kitchen Work Table is a wonderful choice. This island provides a work surface for meal prep as well as a place to serve a family-style buffet. Pair the island with French Country Ladderback counter stools to provide seating. Storage can be a must-have in a kitchen; add a glass door hutch with drawers and doors to hide away display ware, and cooking utensils. Depending on the room size, if there is an eat-in area, you can include a 48" round pedestal table for use in a kitchen nook for more relaxed eating space.
BUY
Ladderback Stools
Ladderback stools available in counter (24") and bar height (30"). Four seat styles to choose from.
Ideas for French Country Living Room Furniture
The living room area is one of the more frequented spaces in a home. Entertainment needs abound here, so, rather than just hang that TV on the wall for all to see all the time, hide it away in a cabinet like the Flat Screen TV Armoire. Hide the TV, the cables, and the boxes and remotes, and give this French country room a focus with a stained or painted cabinet. Accent the armoire with a Square Coffee Table with wide-turned legs, again stained or painted to fit your home décor. The final piece is accent tables to pair with your seating arrangement; you'll love the Turned Leg End Table. A more stylish French country room could not be better designed and it will be cherished for years to come.
BUY
Square Coffee Table
48" square accent table with wide turned legs. Variety of tops to choose from.
Ideas for French Country Bedroom Furniture
Bedrooms are our place to escape the relentless pace of daily living. A restful bedroom, in a country French home, can start with a French Country Raised Panel Bed. Paint the headboard, footboard, and side rails in a two-tone traditional French finish, and you've got the start of a grand room. Storage is always a welcome addition to a French country bedroom, and the French Linen Cupboard with its raised panel doors and wide-open shelving can help alleviate the clutter. Like the living room, accent tables, such as nightstands can be placed on either side of the bed and provide a place for lighting and books. A taper leg piece, like the Three Drawer Nightstand, will do all of that and more and provide extra storage with a variety of drawer heights. Paint the nightstand to match the bed or stain it to stand on its own the choice is yours.
BUY
Raised Panel Bed
Complete bed with headboard, footboard, and rails. Sizes twin, full, queen, and king.
Ideas for French Country Home Office Furniture
A new area to consider in a French country home is that of the home office. Even here we can furnish the room with a country French look. A classic desk design, to serve as the central workspace, can begin with the French Country Executive Desk. The desk can be a distinctive anchor to perform your daily work and house all those office needs like filing papers and storage. Organize your office with a bookcase whether it's a small library size, or, a generous tall bookcase. If you have the room, a French Provincial Bookcase is an elegant option that is like a custom bookcase without the need to pay for a built-in.
BUY
Executive Desk
Professional office desk with raised panel detail, keyboard tray and file drawers
---
So, What is French Country Furniture?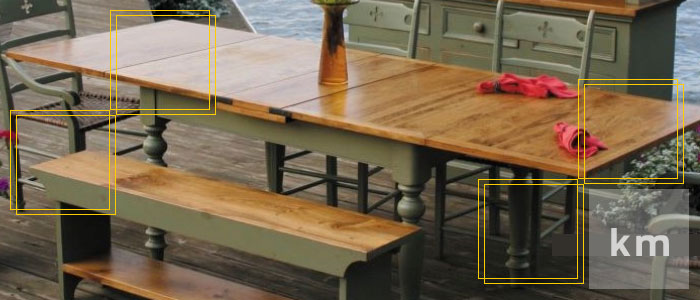 As we said at the start, French country furniture is simple and elegant, charming and sophisticated, rustic and comfortable. At the end of the day, today's modern French country needs to maintain a look that is current and "in". It's one of the few country styles that maintain popularity because it can be chameleon-like and meld its look with many other design styles. Make it modern, keep it traditional, or leave it to the classic French style, it works no matter where in the home it is used. Enjoy its qualities of relaxed comfort; you can make the style your own to match whatever needs you have in your home. Painted, stained, rough, smooth, it's all French country. Today's interior design can handle a lot of looks, we are no longer stuck in a period of time where only one design style will work, we need variety, and we want variety. Our line of Kate Madison French country furniture provides that variety.